Where the Sun Always Shines
We are a London-based internet radio station with the backgrounds of a Sound-System culture and a heart for the people! Ramjam Radio – Where the Sun Always Shines – presents your favourite music 24 hours a day. Listen and enjoy Reggae, Soul, Jazz, HipHop, RnB, Soca, Ska, Gospel, Funk, Soulful House, Drum&Bass and more! More about Ramjam Radio….
To personalise your listening options, click right here.  Enjoy Ramjam Radio!
.
.
Broadcast as a DJ on Ramjam Radio
You can do this from your own home. You don`t need to be experienced but you do need to be committed to the listeners of Ramjam Radio. If you have MOBO (music of black origin) and you would like to share it with us, please make contact.
.
.
.
.
SOULTRACKS READERS`CHOICE AWARDS 2014
It is the biggest awards in the world dedicated to independent Soul Music: The SoulTracks Readers` Choice Awards. This year some of the greatest names in Soul and great names to be were on the nominees` lists (check them out here). Awards were granted in the categories Independent Album and Major Album of the Year, Male and Female vocalist, Duo or Group and New Artist of the Year, Song of the Year and last not least the Lifetime Achievement Award. Ramjam listeners were able to follow up the full event live and direct on Ramjam Radio.

And the winners are…
Independent Album of the Year 2014: The Sunroom by Avery Sunshine
 Major Album of the Year 2014: Promise to Love by Kem
Male Vocalist of the Year 2014: Will Downing
Female Vocalist of the Year 2014: Avery Sunshine
Best Duo or Group of the Year 2014: Kindred the Family Soul
New Artist of the Year 2014: George Tandy Jr.
Song of the Year 2014: Sweet Afternoon by Avery Sunshine
Lifetime Achievement Awards 2014: The Chi Lites
The artiste who scooped the SoulTracks Readers`Choice Awards 2014
Phenomenal: Pianist and Vocalist
Avery Sunshine goaled a hattrick this year in the categories Independent Album, Female Vocalist and Song of the Year 2014! Her album The Sunroom, following up her  award-winning debut album from 2010, was released in May 2014 in partnership with Shanachie Records.
Congratulations to Avery Sunshine from Ramjam Radio – Where the Sun Always Shines!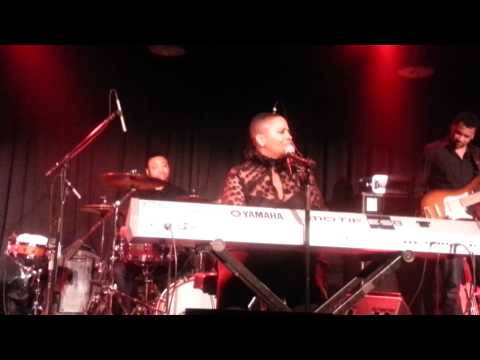 Bunny "Striker" Lee launches film of his life
Glen T was there in person representing Ramjam Radio. Here is his interesting review:
Bunny "Striker" Lee
Being there at the launch and seeing the man himself was a great experience for me. In fact I had met him before, and when I mentioned it to Bunny he remembered the person and the flat in Battersea, but he didnt remember me – "Ah well".   Seriously being amongst someone who always knew what he wanted somehow radiated throughout the room in a people packed cinema. The film was really good, showing footage from being in the studio in Jamaica and hearing it all from the horses mouths past & present. Many songs were played in the film and I found myself singing to them, and I was not the only one. I was sitting next to Elizabeth Bryan and we sometimes harmonised. From time to time I looked over at the great man to see him immersed in the film as we learned how many children he sired. And how some of his singers lived and died. In fear of losing my seat I still left the cinema asking my son Beres to keep it for me as there were people actually sitting on the floor and standing at the back.
As I walked out of the room and down the stairs the lady in charge of the
Ritzy Cinema
in Brixton London was holding back a serious amount of people from entering the room. At a quick glance I could see the star studded unlucky ones were too late to see the show. This certainly was a case of "snoozing and losing" as there were some big names that were not smiling as I returned to my seat. Just before the film the great man himself was applauded nearly taking the roof off and to a similar level the Narrator
Dennis Alcapone
took his applause. The crowd calmed to a murmour when Dennis called out saying "Whappen Glen T" which off course crowned my evening as I replied to Dennis "Me deh bout Dennis" or something close to that. We have met and worked together on occasion but it was fantastic to be bigged up amongst a crowd of artists. The show ended and the lights came on to another round of applause. I stood up from my seat to see that
AJ Franklin
and
Winston "Cobra " Francis
had made it into the room to see the film. There were some warm greetings and man Hugs to see them amongst the crowd. My son Beres was reminded that although he may not realise right now he is standing amongst some of the greatest artists that have breathed air on this planet and he must not forget what he has seen this evening. I am certain that these memories may well be the start of having a wonderful career in anything he wants to do in life.
.
.
.
You`re invited to interact with us!
Ramjam Radio -Where the Sun Always Shines- is a station run by people for people. We`d love to hear from our listeners. We`d love you to join Ramjam Radio in the social media or in our chat room. Here`s a little overview for you:
Any time our DJs are live on air you can meet them along with other Ramjammers in our very own chat room with a friendly atmosphere. All you have to do is click on our "Ramjam Chat Room" icon that you can see in our left sidebar, register with your e-mail, and here you go! Ramjam Radio is looking forward to welcome you there.
Skype

Find us, add us and be welcome to chat with our DJs! Our Skype-name is "Ramjamradio". We are online in Skype when the Skype cloud logo (right under Ramjam Chat Room) is green. This will mostly be the case during Frankly Speaking on Thursdays 10 pm to 12 midnight and the Sunday T Vinyl Soul Show Sundays 3-5 pm. DJ Glen T welcomes you to even give him a live call during his shows, so don´t hesitate!

Facebook

Surfing on any page of Ramjam Radio, you will always see the "F" button on the left top of our page. Click on it, and you can see our Facebook Slider opening with the latest postings on our Fanpage, updating immediately whenever there is a new post. So you always know what`s going on even without having to log into your Facebook account. Ah yes, and one more thing: If you like our Facebook Fan page, please LIKE it Bless!!

If you are logged into your Facebook account during our live shows you will find some of our DJs such as DJ Glen T in FB online and ready to chat with you.

If you want to get even more interactive and see interesting info, news and updates on Ramjam Radio in Facebook, you are most welcome to join our Facebook Group "Ramjam Radio Community" with a variety of postings on events, artists, our live programme and the option for you to interact with Ramjammers by writing comments or sharing your links.

Twitter

Ramjam Radio `s Twitter Account is very active. Live shows as well as the latest news are announced, you are always kept up-to-date with what`s happening in advance or at the time when it is happening, Ramjam Radio is connected to artists, promoters and other people in the music biz – but most of all we would like to connect up to people like YOU! So if you have a Twitter account find us, follow us and make contact @Ramjamradio.

You don´t need a Twitter account to follow up our Tweets right here right now: Click on our Twitter Slider button with the "t", right below the Facebook Slider on the left top of any of our webpages. You will see our latest Tweets opening, and any time they are updated you will see it immediately.
__________________________________________________________________________________________
.

John Holt 11.07.1945 – 19.10.2014

Veteran Reggae Singer John Holt has died age 69. Recent reports say that John died in hospital, but what he died of is not stated as fact. As far as Ramjam Radio is concerned this is a major shock after seeing just last week John Holt in the Bunny "Striker" Lee Movie. Ramjam Radio will be respecting the master of Reggae by playing his music. He penned many songs including "Stick By Me " with Bunny "Striker" Lee, and of course the mega hit "Tide Is High".

May we offer our condolences to the family and friends of John. I am sure it is an understatement to say that he will be missed. The up side is John has left us with a barrow load of seriously great music which will eventually return the smiles to our faces.

Picture courtesy of the Guardian

.



.
.
.
MUSIC-VIDEOPLAYER: To watch & listen just choose a goodie. It`s continously updated with new interesting videos, so keep checking! To turn the player around and see the full library, use the "open library" button. If you can`t see the player, please install Flash Player plugin.
____________________________________________________________________________________________